Uncover the secrets of SQL and start building better relational databases today!
This fun and friendly guide will help you demystify database management systems so you can create more powerful databases and access information with ease. Updated for the latest SQL functionality, SQL For Dummies, 8th Edition covers the core SQL language and shows you how to use SQL to structure a DBMS, implement a database design, secure your data, and retrieve information when you need it.
Includes new enhancements of SQL:2011, including temporal data functionality which allows you to set valid times for transactions to occur and helps prevent database corruption
Covers creating, accessing, manipulating, maintaining, and storing information in relational database management systems like Access, Oracle, SQL Server, and MySQL
Provides tips for keeping your data safe from theft, accidental or malicious corruption, or loss due to equipment failures and advice on eliminating errors in your work
Don't be daunted by database development anymore - get SQL For Dummies, 8th Edition, and you'll be on your way to SQL stardom.
In just 24 sessions of one hour or less, you'll learn how to use SQL to build effective databases, efficiently retrieve your data, and manage everything from performance to security! Using this book's straightforward, step-by-step approach, you'll learn hands-on through practical examples. Each lesson builds on what you've already learned, giving you a strong real-world foundation for success. The authors guide you from the absolute basics to advanced techniques—including views, transactions, Web data publishing, and even powerful SQL extensions for Oracle and Microsoft SQL Server!
Step-by-step instructions carefully walk you through the most common SQL tasks.
Quizzes and Exercises at the end of each chapter help you test your knowledge.
By the Way notes present interesting information related to the discussion.
Did You Know? tips offer advice or show you easier ways to perform tasks.
Watch Out! cautions alert you to possible problems and give you advice on how to avoid them.
Sams Teach Yourself SQL in 10 Minutes, Fourth Edition
New full-color code examples help you see how SQL statements are structured

Whether you're an application developer, database administrator, web application designer, mobile app developer, or Microsoft Office users, a good working knowledge of SQL is an important part of interacting with databases. And Sams Teach Yourself SQL in 10 Minutes offers the straightforward, practical answers you need to help you do your job.
Expert trainer and popular author Ben Forta teaches you just the parts of SQL you need to know–starting with simple data retrieval and quickly going on to more complex topics including the use of joins, subqueries, stored procedures, cursors, triggers, and table constraints.
You'll learn methodically, systematically, and simply–in 22 short, quick lessons that will each take only 10 minutes or less to complete.

With the Fourth Edition of this worldwide bestseller, the book has been thoroughly updated, expanded, and improved. Lessons now cover the latest versions of IBM DB2, Microsoft Access, Microsoft SQL Server, MySQL, Oracle, PostgreSQL, SQLite, MariaDB, and Apache Open Office Base. And new full-color SQL code listings help the beginner clearly see the elements and structure of the language.

10 minutes is all you need to learn how to...
Use the major SQL statements

Construct complex SQL statements using multiple clauses and operators

Retrieve, sort, and format database contents

Pinpoint the data you need using a variety of filtering techniques

Use aggregate functions to summarize data

Join two or more related tables

Insert, update, and delete data

Create and alter database tables

Work with views, stored procedures, and more
Become An SQL Expert In Few Easy Steps
Learn the most useful tips by following this easy handbook!
Are you looking for more ways on how to improve your SQL skill? Do you want to see your database in an organised fashion?
Well if you answered "yes", then read on!
Structured Query Language or SQL is famously used to interact with database. You may be working at a hotel, bank, government, or any industry, SQL is certainly a necessity to run your daily operations!
SQL: The Ultimate Guide From Beginner To Expert – Learn And Master SQL In No Time! is a book that will introduce you to a computer language that has helped so many business owners and information technologists with daily reports and database management without the fear of crashing.
Here's what you'll find inside:
SQL Basics
SQL and Data
Data Functions (Aggregate, Rowset, and Ranking)
Scalar Functions
Basics of Building a Table Using SQL
Recommendations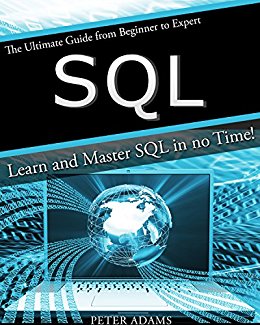 You know the rudiments of the SQL query language, yet you feel you aren't taking full advantage of SQL's expressive power. You'd like to learn how to do more work with SQL inside the database before pushing data across the network to your applications. You'd like to take your SQL skills to the next level.
Let's face it, SQL is a deceptively simple language to learn, and many database developers never go far beyond the simple statement: SELECT columns FROM table WHERE conditions. But there is so much more you can do with the language. In the SQL Cookbook, experienced SQL developer Anthony Molinaro shares his favorite SQL techniques and features. You'll learn about:
Window functions, arguably the most significant enhancement to SQL in the past decade. If you're not using these, you're missing out
Powerful, database-specific features such as SQL Server's PIVOT and UNPIVOT operators, Oracle's MODEL clause, and PostgreSQL's very useful GENERATE_SERIES function
Pivoting rows into columns, reverse-pivoting columns into rows, using pivoting to facilitate inter-row calculations, and double-pivoting a result set
Bucketization, and why you should never use that term in Brooklyn.
How to create histograms, summarize data into buckets, perform aggregations over a moving range of values, generate running-totals and subtotals, and other advanced, data warehousing techniques
The technique of walking a string, which allows you to use SQL to parse through the characters, words, or delimited elements of a string
Written in O'Reilly's popular Problem/Solution/Discussion style, the SQL Cookbook is sure to please. Anthony's credo is: "When it comes down to it, we all go to work, we all have bills to pay, and we all want to go home at a reasonable time and enjoy what's still available of our days." The SQL Cookbook moves quickly from problem to solution, saving you time each step of the way.
Updated for the latest database management systems -- including MySQL 6.0, Oracle 11g, and Microsoft's SQL Server 2008 -- this introductory guide will get you up and running with SQL quickly. Whether you need to write database applications, perform administrative tasks, or generate reports, Learning SQL, Second Edition, will help you easily master all the SQL fundamentals.
Each chapter presents a self-contained lesson on a key SQL concept or technique, with numerous illustrations and annotated examples. Exercises at the end of each chapter let you practice the skills you learn. With this book, you will:
Move quickly through SQL basics and learn several advanced features
Use SQL data statements to generate, manipulate, and retrieve data
Create database objects, such as tables, indexes, and constraints, using SQL schema statements
Learn how data sets interact with queries, and understand the importance of subqueries
Convert and manipulate data with SQL's built-in functions, and use conditional logic in data statements
Knowledge of SQL is a must for interacting with data. With Learning SQL, you'll quickly learn how to put the power and flexibility of this language to work.